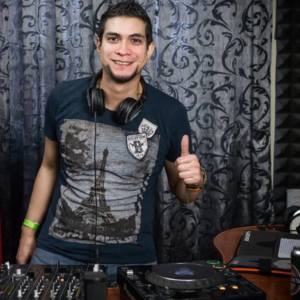 Jaime Herrera (aka K-MEL) is born in the Tiger Anzoátegui State (Venezuela) on the 20th December 1983. Currently is based in Bucharest Romania, since 2012. He started his career in 2007, in his origin country Venezuela, playing in clubs and events. Distinct characteristics in the scene are what identifies him, his DJ sets are explosive and with a lot of dynamism, not maintaining one single line, having a very proper style influenced by complete underground sounds, creating a good atmosphere to his audience. He is an artist driven by consistence, vision and passion.

He produced in many top labels as Big Punch Records, Wicked Waves Recordings, Oxytech Records, Finder Records, Subwoofer Records, Technodrome, Tekx Records, Luminar Records, Teksession Records, Klinik Room, Krank Records & more that received the support of biggest international DJs (Danny Tenaglia, Mark Sherry, Marco Carola, Spartaque, Nadja Lind, Lea Dobricic, D'jamency, Forest People, Electrorites, Josh Love and more).

His achievements in producing started in 2011 with the track "Violet pills" proved highly popular in the Beatport charts. Later in 2015 his remix "Feel Mahatma" for Dual Fuel ranked #65 in the Beatport chart. Another achievement happened at the beginning of January same year when Jaime Herrera worked together with Kami in an EP for Klinik Room that reaches the position #7 in the Beatport Releases chart. Jaime is also the winner of the remix competition for X-treme Hard Traxx EP by Fresh Otis. So far, in 10 years of career, he had gigs in countries as Germany, Austria, and Romania.

He become internationally known starting 2010, thanks to the track "2000 watt (K-MEL re-edit)". Jaime has made few changes to the original track, 2000 Watt, belonging to DJ/Producer Brian Sanhaji, reaching the hearts of European and American public through this version.

He is invited by several radio stations around the world and has his own radio program "Techno Factory" on Radio Deea, Romania. Also in the past he has his own show on Cuebase-fm, Germany, called "The K-Mel show" playing big names on the techno world scene.
Este locutor não está apresentando em nenhum horário